Born & raised in England, Aman moved to Canada in 1979, finished high school & attended the University of British Columbia. He obtained a B.A. [Sociology] degree in 1985 & his LLB. in 1988. Aman was awarded a number of scholarships at U.B.C. & represented U.B.C. Law School in moot [mock] Court competitions between various universities. He ranked in the top 5% of his graduating law school class.
From 1989 to 1996 Aman practiced in a 35 lawyer downtown Vancouver law firm then headed by The Honourable Mr. Justice Tom Braidwood. While there, he developed a varied practice including complex personal injury matters (I.C.B.C.), criminal defence cases, contract disputes, company/real estate litigation & family cases.
Since 1996 Aman has practiced in the Surrey/Delta area. Although he continues to represent various individuals, companies & societies his preferred areas of practice are I.C.B.C. injury cases & a variety of criminal matters. He has presented continuing legal education seminars to other lawyers & has appeared on TV and local radio call-in shows.
Aman serves as a Member on the Board of Directors of both the People's Law School [Vancouver] & of a non-profit society in New Westminster. He is also a past Member of both the B.C. Commercial Appeals Commission & the B.C. Liquor Appeal Board.
Aman has appeared in B.C. Supreme Court, B.C. Court of Appeal, Immigration & Refugee Board and in the Federal Court of Canada . He is a member of the Trial Lawyers Association of B.C., Canadian Bar Association & the Association of Trial Lawyers of America.
Puneet was called to the Bar of British Columbia in 2006 after successfully completing Canadian LL.B. requirements through the National Committee of Accreditation, Ottawa.
Before moving to Canada, Puneet completed her B.A. (Hons.) and LL.B. Degrees from GND University, India, in 1999 and 2001 respectively, graduating amongst the top 5% of her class. Puneet was called to the Punjab and Haryana Bar Association in 2001, practicing primarily criminal law and dealing with a variety of land disputes.
Puneet has expertise in residential and commercial real estate transactions, land development (sub-divisions), incorporations and buying and selling businesses (shares & assets).
Puneet plays an active role in community affairs and has served on the following organizations:
Board of Surrey Homelessness and Housing Society.
Director of South Asian Business Association.
Board of Legal Services Society of BC.
City of Surrey Board of Variance.
Director of Panjab Digital Library.
Member of Surrey Newton Rotary Club.
Association of South Asian Professionals of B.C
Secretary of South Asian Bar Association of B.C.
Mayor's Advisory Council
Advisory Board of Resource Works
Mannkind Charitable Society
Puneet was awarded Queens Diamond Jubilee Medal in 2012 for her community volunteer work. Puneet is married and has two daughters. Her hobbies include reading, cooking, interior decoration and music.
Puneet is a member in good standing of the Law Society of British Columbia.
Barinder graduated with a Bachelor of Commerce degree (B.Comm.) from the University of British Columbia in 1994 with a major in Finance. Barinder subsequently completed his Bachelor of Laws degree (LL.B.), also at U.B.C.
Since being called to the Bar of British Columbia in 1998, Barinder has practiced primarily in two areas: Immigration Law and Personal Injury Law (I.C.B.C.). Barinder has successfully handled many difficult and challenging cases in these areas of law. For example, he handles all applications, appeals, and Federal Court matters in immigration. With respect to I.C.B.C., he deals mostly with people injured in car accidents. He has focused his practice so that he can easily keep up with changes to the law.
Barinder was previously the Chair of the Member Services Committee of the Canadian Bar Association. He is also a member of the Law Society of British Columbia, and the Immigration and Insurance Law subsections of the C.B.A. Barinder has also conducted seminars and appeared on radio and television to discuss legal issues.
Barinder enjoys hockey, golf and most other sports.
Raised in a small rural town in British Columbia, Jag attended the University of British Columbia achieving his B.Sc. (Hons.), M.Sc. and law degree. Jag has extensive experience working in research and teaching. His teaching experience includes instructing laboratories for senior undergraduate students for over four years at U.B.C.
Jag has been the recipient of numerous scientific and legal academic awards including the: D.G. Laird Prize in Soil Science, Undergraduate Student Research Award (awarded through NSERC, the Natural Sciences and Engineering Research Council of Canada), Frank Iaccobucci Entrance Award in Law, Law Foundation Entrance Award, Richard Campbell Memorial Scholarship and McCarthy Tetrault Leadership Award in Law.
Jag articled and was an associate at an international law firm in downtown Vancouver. Jag has a broad range of general litigation experience, with a focus on civil/corporate litigation (contract disputes and commercial/construction/real estate litigation) and personal injury matters (I.C.B.C.).
Jag has appeared successfully in both British Columbia Provincial and Supreme Court. He has previously served as a board member and adjudicator for the Environmental Appeal Board, Forest Appeals Commission, and the Oil and Gas Appeal Tribunal for the Province of British Columbia.
Aside from his work and academia, Jag has been involved with many organizations including Providence Health Care, Big Brothers of Greater Vancouver, the South Slope YMCA, Vancouver Community Policing, and Canadian Blood Services. Jag was featured on Global Television for his extensive community service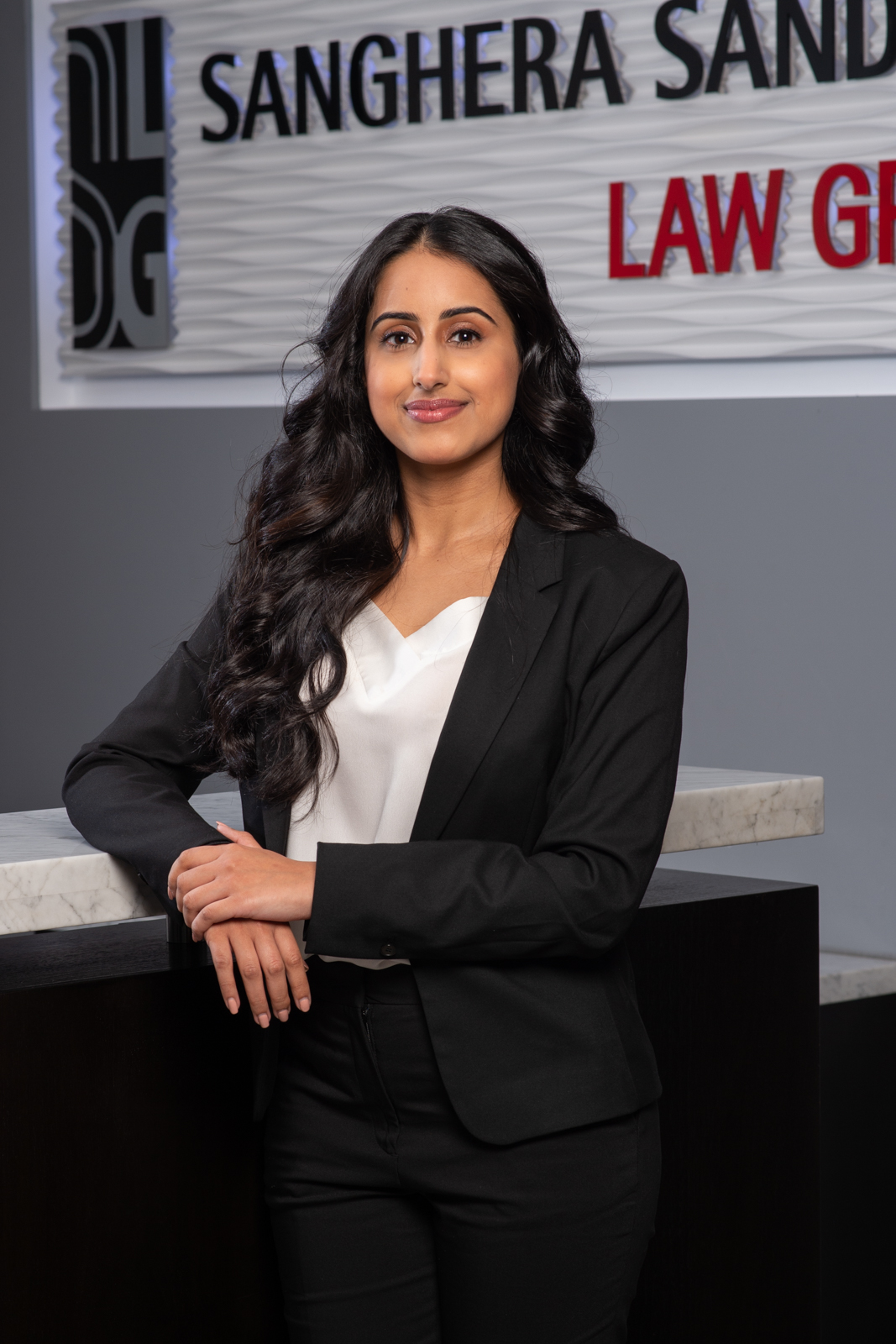 Avneet was born and raised in Surrey, British Columbia. She studied at Simon Fraser University before she moved "down under" to Gold Coast, Australia. She attended Bond University and obtained a B.A. [Psychology and Criminology] in 2014 and her J.D. [with Distinction] in 2017. During law school, Avneet worked in a Community Legal Clinic along with other lawyers, offering pro bono services to the vulnerable and disadvantaged. She had the opportunity to work on various matters, including Family and Domestic Violence, Tenancy and Employment.
After living in Australia for four years, Avneet decided to move back home to Canada. Upon successfully completing the NCA requirements, she articled with Sanghera Sandhar Law Group in 2017 and joined the firm as an Associate in 2018. Her main practice area of law is in Civil Litigation with particular focus in Personal Injury/ICBC cases.
Avneet was called to the Bar of British Columbia in 2018 and is a member in good standing. She is also a member of the Trial Lawyers Association of BC, Canadian Bar Association [BC Branch] and South Asian Bar Association of BC.
In her spare time, Avneet enjoys traveling, hiking and spending time with family and friends.
Contact us to book an appointment